Ching-Chang Chieng Emeritus Professor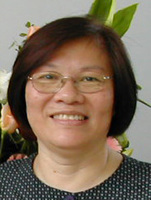 Name
Ching-Chang Chieng, Professor
PhD
Associate Fellow of AIAA
Emeritus Professor
Education
Ph.D. Aerospace and Ocean Engineering, Virginia Polytechnic Institute and State University, U.S.A.
M.S. Chemical Engineering, University of Rhode Island, U.S.A.
B.S. Nuclear Engineering, National Tsing Hua University, Taiwan
Research Areas
Numerical Heat Transfer

Microsystems

Turbulence Modeling and Application

Large System Computations

3D Immersive Display Systems for Student/Public Education
Employment History
2011-2016
Visiting Professor, Department of Mechanical and Biomedical Engineering, City University of Hong Kong, Hong Kong
1981-2011
Professor, Department of Engineering and System Science, National Tsing Hua University, Hsinchu, Taiwan
1994-1995
Residence Research Engineer, IBM Almaden Research Center, CA, U.S.A.
1987-1988
Senior Research Associate, National Research Council, Ballistic Research Laboratory, Department of Army, Aberdeen, MD, U.S.A.
1979-1981
Professor, Department of Mechanical Engineering, Chung-Yuan Christian University, Chung-Li, Taiwan
1978-1979
Research Engineer, Department of Mechanical Engineering, University of California, Davis, California
1975-1978
Associate Scientist, Group leader, Reactor Engineering Division, Institute of Nuclear Energy Research, Lung-Tan, Taiwan
Email
Phone
(+886) (03) 5715131 ext.34309
Office
ESSBuilding, R208
Publications